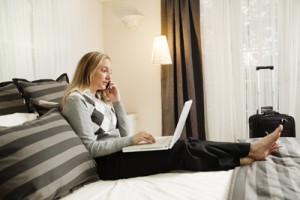 The Hotel and Lodging industry now requires High Speed Internet Access for all their guests. Guest's opinion with Internet Access continues to play a leading role in overall satisfaction scores.
This compels today's hotel owner to provide the guest with Internet Access as close to perfect as possible. Unlike business networks your network must be 'all things for all people' and provide access to various makes and models of equipment despite how they are configured or maintained. This amenity more than any other will determine if you client gives you property repeat business and recommend you to others.
Arrow Complete Communications focuses on giving your client the best experience possible by meeting this highly demanding market with innovative designs and the latest equipment. When a problem does arise Arrow Complete Communications prides itself on the speed of its support and response.  Ensuring your guest's needs are met in a timely fashion.
Arrow Complete Communications has been in the Hospitality HSIA business from the start of the industry.  With innovative technologies that deliver a premier guest experience while controlling costs, Arrow Complete Communications will bring your guests the experience they demand.
Arrow Complete Communications offers the best satisfaction guarantee in the Industry.
If any design or system we install fails to meet your Franchise requirements or fails to perform to your complete satisfaction, Arrow Complete Communications will make it right at no additional cost or refund your investment if requested by the customer.
Whether your needs require Guest Internet Access, front desk and back office networks, or business center design and support, Arrow Complete Communications is confident in performing and earning you truest as you High Speed Internet Access equipment and/or support provider. To date no competitor offers this complete satisfaction guarantee.